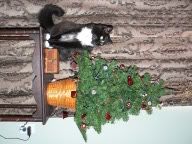 Well, we are getting close. I do not want to give specifics because of OPSEC (Operational Security), but suffice it to say we are very, very close to deployment.
On Friday night, DH and I had a wonderful date. First, we ran some errands. I needed Christmas garland and a tree topper for a Junior League community service project the next morning. So, we went out to get some Christmas decorations for our house, as well.
I've also been very excited to get a new digital camera with more zoom, quicker "shutter" speed, and an image stabilizer, so DH made that an early Christmas present for me.
We also needed some things for the cats. While we were in PetSmart, DH was extra sweet and we purchased a cat tree for the kitties. We had the $30 one from Walmart that goes all the way to the ceiling, but Loki (our fat cat, topping the scales at 17 lbs) kept knocking it down. So, DH sprung for this one and the cats LOVE it.
On the way out, DH picked up some "Christmas mice" for the kitties–he's a tough guy but a softie for cute, little creatures.
When we got home, we put on a Christmas CD and broke out the egg nog (virgin for me–we have been trying to conceive and there is a possibility it worked–more on that, soon). With carols in the background, we decorated our mini-tree. DH is a fan of the giant, real tree–the kind where you can barely put the topper on. However, since DH will be deploying soon, I picked up a 3-footer. We also watched Alfie (the recent update), which was cute but not particularly interesting.
The following evening, we had friends over for cards and cheese fondue. I also made Rosemary Chicken and Goat Cheese turnovers, stuffed Zucchini florettes, baked brie, and sweet spiced almonds. My friend is pregnant so, in addition to the wine and cocktails, we had apple cider and Christmas Eve Herbal Tee from Stash Tea.
So, those were our last "dates" before deployment and they will last me many months.