Millions of peaches, peaches for me Millions of peaches, peaches for free …
On Saturday, Super Dad gave me an impromptu Mother's Day celebration. We were going to take Baby Diva out for a walk, then we decided to hop in the car to go to a local festival. As we were driving, we realized that what we really wanted were fresh Hill Country peaches. Why not? We drove down to Hill Country and got our peaches–fresh peach ice cream, fresh peaches, and peach chipotle sauce.
Baby Diva enjoyed her first taste of yummy fresh, local peaches.
Then we continued onto one of our favorite local wineries. On the way back, I got Indian Food–my favorite! I was nervous, but the music was not too loud for Baby Diva and just loud enough to cover up happy baby noises and any minor fussing. As it turns out, Baby Diva was so good and two other couples with babies were seated while we were eating.
We put Baby Diva down to bed, and then at midnight I got my Mother's Day gift–a dragonfly keyring from Tiffany!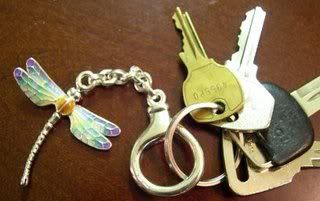 Way back in the BC (Before Child) Era, Super Dad and I loved to travel. On a vacation in Hong Kong, Super Dad purchased me an opal dragonfly necklace. Then, we traveled up Victoria Peak and were surprised to find thousands of shimmering dragonflies darting around. Apparently Hong Kong is renowned for its dragonfly population.
Ever since then, the dragonfly has been very special to us. Now, I can carry one with me wherever I go…and it came in a little blue box! I know if Baby Diva were a little older, she would approve. How thoughtful of Super Dad!!!