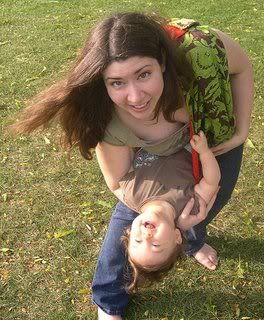 Every time I take my babies out, I have a choice: Sling or stroller.
I've seen parents carrying young infants with neither option, but I cannot imagine that and there is no way I'm carrying my 18 pound infant in a car seat without a stroller.
Let's do a case study:
Slinging It:
Today I took my toddler to the doctor and I placed Junior in the sling. While we were waiting for the doctor, he fell asleep and continued to sleep through the entire exam.
I brought them to "Toddler Tango" at the library and held Junior in the sling while I danced with my daughter. Junior flirted a bit with the ladies and then passed out. Another mother's infant woke up from a nap in the travel system and she commented that she did not have her Bjorn with her. I whipped out my spare pouch sling (hee, hee) as a loaner and now she wants one, too.
Strolling:
We went to a craft program. I decided to place Junior in the stroller, hoping he'd fall asleep and I'd get a little break. I maneuvered our Sit N' Stroll into the elevator along with another adult and toddler. Then, a Dad came along and we held the door for him. He came in with toddler and his stroller.
The doors closed and…the elevator did not move.
We pressed buttons, the doors stubbornly refused to reopen.
Three adults, three toddlers, two strollers, and one infant stuck in an elevator for 15 minutes.
When maintenance finally got us out, I placed Junior in the sling, left the stroller, and walked down the stairs. We arrived in time for circle time but missed the craft.
Now, in the stroller's defense there are times when I need a little more freedom of movement (like undressing and dressing the toddler for swimming). And sometimes I want to move faster than the toddler can walk. So, strollers definitely have their uses. After the elevator experience, though, I am even more convinced of the benefits and convenience of my slings.
How about you? Any stroller or sling experiences that made your day or drove you crazy?