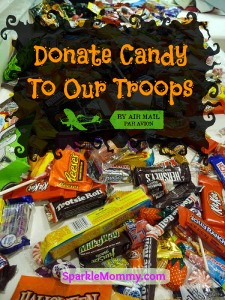 Rather than letting your excess Halloween Candy go to your hips, send it to the troops.  If you have young kids or you did not get as many trick-or-treaters as you hoped, you may have a lot of candy hanging around.
Found via Cool Mom Picks (via Fairly Odd Mother), these military support groups will accept your candy for care packages for our troops:
They also have some great children's charities listed if you'd prefer to drop off your remaining candy locally.
Some local dentists are also hosting candy "buy back" programs, giving out stickers, toothbrushes, and even sometimes cash for the candy and then taking the boxes of sweets and donating them for you.