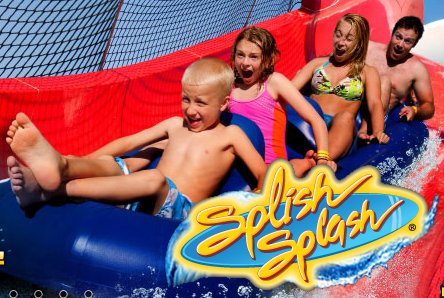 Although I have lived on Long Island for about 6 years and have been spending summers out here ever since I started dating my husband (almost 15 years ago), this weekend was my first time at Splish Splash Water Park in Calverton, New York, and it was the kids' first time at a water park. The kids had a blast and it was a great family fun day trip on Long Island. There are a few things we'd probably do differently next time we go so I thought I would share them with you.
We considered going to a water park on our Disney Social Media Moms trip but one of the water parks was closed and we ended up spending so much time in the other parks and at Sea World that we skipped it. So, we promised the kids we would check out Splish Splash when we were back on Long Island.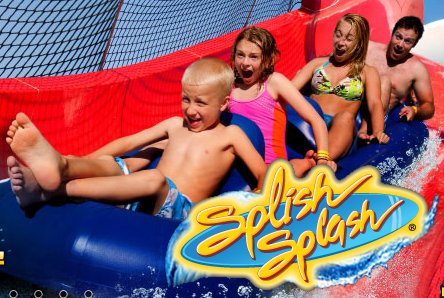 Parking and Tickets – Military Discount!
First thing you have to know is that you are going to be shelling out a lot of money. You will need to pay $14 per car for parking before you even get into the park. Tickets are $39.99 for adults, $29.99 for kids under 48″ and seniors. Children 2 and under are free (yay!). You can save $2 off if you purchase online. There is a AAA discount if you purchase through AAA ahead of time. There is also a military discount for the service member plus three family members. However, there is no online option for that, which is unfortunate.
This brings me to our first "lesson learned" — buy your tickets online if at all possible. We went on a nice weekend and the ticket lines were monstrous.
The park also offers an H2GO Pass, kind of like a "fast pass" with return times for rides $25 (premium is $45) + a $10 deposit on weekdays and $30 (premium is $50)+ a $10 deposit on weekends.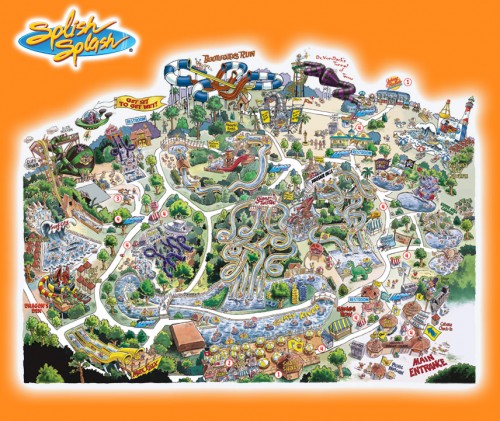 The Rides
One of my concerns with water parks is that they have enough rides for my young children (ages almost 7, almost 5, and 2). There are quite a variety of rides and attractions for all ages.
The other concern is the lines. We encountered huge lines for most of the tube rides. There was almost no line for the Max Trax body slide, on the other hand. I think if both of our older kids were over 48″, we might spring for the H2GO pass.
Most of the rides have a weight restriction of 250 lbs for individual riders–something to keep in mind before deciding whether or not to visit.
All Ages:
Lazy River: Basically a slow drift in an inner tube.
Kahuna Bay and Surf City: Both are wave pools. Guests under 42″ must be accompanied by an adult. Guests under 48″ have to have a life jacket. You can get them at the entrance. We went to Surf City and there was a line to get in but it moved fast. They did have a shortage of life vests so we had to wait for one for my two boys. My daughter also wanted one although she is a strong swimmer. They didn't have the best system for these as you can send someone to grab them while waiting in line. My 2 year old and I waded out during the 10 minutes the waves are off and then sat on the "shore" with the waves crashing on us when the waves were on. My older two kids LOVED the waves and we'll definitely have to check out Kahuna Bay next time.
Under 44″:
There are 4 "Kiddie Slide" attractions with 1′ deep pools and easy water slides for toddlers: Elephant Slide, Monsoon Lagoon, Pirates Cove, and Octopus Pool (with baby swings dangling from the tentacles).
The slides are restricted to under 44″ unless accompanied by a child. My daughter (who is 48″) went down most of these slides with her baby brother. However, she was stopped at Pirates Cove and was a bit traumatized that she has "outgrown" certain slides.
over 36″ (usually with adult), over 42″ or 48″ to ride alone:
There are four tube rides (besides Lazy River) you can ride with an adult if you are over 36″ or "able to hold the correct riding posture." There are an additional three body slide rides for 42″ and over.
42″ alone, under 42″ with an adult:
Abyss – Tube Slide: Height restriction 42" (under 42" with an adult must be able to hold correct riding posture).
Dinosaur Falls – Tube Slide: Height restriction 42" (under 42" with an adult must be able to hold correct riding posture). My kids went on this and loved it. My son went in a double raft with my husband and my daughter went solo. You have to grab the tube at the bottom of the ride and then carry it up a hill to the start of the ride. There is no minimum listed for riding with an adult other than "hold correct riding posture."
48″ to ride alone, 36-42 with an adult:
Hollywood Stunt Rider – Tube slide: Height restriction 48" to ride alone, 36″-48" riders with an adult
Mammoth River- Tube slide: Height restriction 48" alone (36″-48" riders with an adult and be able to hold correct riding posture).
over 42″:
Barrier Reef – Body Slide: Height restriction 42".
Giant Twister – Body slide: Height restriction 42".
Max Trax- body slide: There are two choices for this slide–one is a straight 50′ ride and the other has some bumps on which you "grab air." My kids went for the straight ride and had a blast, although I admit I was a nervous wreck watching them. Height restriction 42".
Over 48″:
We did not try these as there were plenty of over 42″ rides and we didn't want to wait on the lines for rides my middle son couldn't ride.
Alien Invasion – Tube Slide: Height restriction 48".
Shotgun Falls – Body Slide: This is a free-fall drop slide. Height restriction 48".
Dragon's Den – Tube slide: Height restriction 48".
Dr. Von Dark's Tunnel of Terror: Height restriction 48".
Over 54″
Cliff Diver – Extreme body slide: "Drop 8-stories in 3-seconds on this exhilarating slide." We saw this from afar and I have to say, there is no way you are ever getting me on that thing. Height restriction 54".
The Food and Amenities
The food is what you would expect at an amusement park–not very good and overpriced. We all shared a pizza and some expensive waters. You are not allowed to bring food or drink into the park so, if you do not want to spend big time, eat before hand or grab a quick picnic in the parking lot (you can get a re-entry stamp).
We ate pretty late but still had trouble finding a table with shade and the unshaded benches were painfully hot even on the partly cloudy day. Amazingly, there were not a ton of bees or other bugs that tend to hover around outdoor food courts, however–not sure if it was just a lucky day or if they have some way of keeping the bugs at bay.
Lockers cost $13 ($8 plus a $5 refundable deposit). You can rent a locker at the ticket booth but they were out of locker keys and there was another huge line inside.
There are cabana rentals available if this is your big vacation for the year and you want to splurge.
There is a store selling most needed items you might forget.
We found a Kodak photographer taking pictures at Surf City and I know there was one at Lazy River as well. You can purchase pictures for $15 each (or deals for multiples) at the end.
There is a decent amount of shade walking through the park so even on a sunny day, there is some relief from the heat.
What to Bring
Bathing suit: Obviously, you are going to need a bathing suit. I would recommend a rash guard and board shorts for both sun protection and comfort when walking around. ("Swimwear must be conservative with no belt buckles, rhinestones, buttons, zippers, rivets or snaps on the back or sides. No cut-off jeans or long pants are allowed on the attractions.")
Towel: I like hooded poncho towels for the kids since they can wear them without tripping.
Swim Shoes / Aqua socks: We found these really useful, especially walking between rides and in the bathrooms. You cannot wear them on many of the body slides but you can usually put them on your hands or leave them in unlocked cubbies. Make sure you label with your name in case you want to leave them in cubbies.
Water-proof container necklace (Optional): You might want a water-proof container necklace. My husband brought in a backpack with the intention of checking it but the lines were so long to get a locker. You cannot bring your wallet or your car keys with an electronic lock on the rides. Since I am pregnant and with the 2 year old, I was able to keep the bag at arms' reach while my husband took the older two on the rides. a container necklace for just the keys and credit card and money would have been useful but I'm not sure what you do with it on rides as I imagine the necklace part is a hazard on some rides and I am not sure you would want to risk leaving it in an unlocked cubby.
Water-proof camera (Optional): I didn't bring my camera and my husband joked that this trip never happened since I didn't meticulously document it in photographs. In retrospect, I would have loved to have had a camera with me–especially since I couldn't go on most of the faster rides with my pregnancy and the toddler in tow. If you plan to go on all the rides, though, this might be difficult to stash.
"No masks, snorkels, swim fins or shoes with the exception of aqua socks are allowed. For your safety, Aqua socks and T-shirts may not be permitted on some attractions."
Bottom Line:
The kids love this trip but be prepared to wait on lots of lines and spend, spend, spend on everything from parking, to tickets, to upgrades, to the food. You can minimize some of the costs by taking advantage of buying tickets online, available discounts, and some advanced planning–but there are some big costs that are unavoidable.
If you can go on a weekday, you'll save time and money.
There is plenty to do with a toddler (and kids 2 and under are free) sibling but I would wait on this trip until at least one of the kids is over 36″, over 42″ is even better.
—
Disclaimer: I received no incentive, discounts, or payment for posting. Images are from the company's website.