Well…that was…really…an episode of television, wasn't it?
Sorry about the late recap…it was my daughter's birthday on Friday and I was managing mermaid crafts and make-your-own sundaes for seven year old girls. And the results were less messy than this episode of Project Runway.
The Season 12, Episode 4 of Project Runway gets off to a lovely start as Tim introduces Jesse Tyler Ferguson. Ferguson explains that he started a charity, "Tie the Knot," which sells bow ties to benefit marriage equality organizations. Tim outlines the challenge: the designers will design a garment inspired by the ties and may use the ties in their design.
So, a charity that actually speaks to the industry and requires the designers to be inspired by fashion. Too logical–something's gotta go bonkers.
The designers get to actually use their fancy schmancy debit accounts and head to Mood for fabrics.
Jeremy's grandmother passed away and he is drawing on her style for inspiration. That's sweet and all but I am already predicting trouble. Designers constantly get hammered in judging for skewing too old.
Apparently Bradon predicted this challenge would have something to do with gay marriage and so Sandro says Bradon is a "bruja." I thought he was Russian? Not Spanish? Is Spanish the gay Yiddish?
Bradon la Bruja is making a bodice with a lot of hand stitching.
Dom says something about an origami bodice. Tim advises her against adding piping. She's also making a jacket if she has time. Tim advises she spend her time matching up the seams of the chevrons, instead. The judges will be more impressed by quality technique than by adding an unnecessary piece.
No-Sew Sue spent twice the suggested budget at Mood and made two dresses, one of which has ties dangling off of it. This woman needs to go, soon. If she makes it to the end, she's going to have to send her model down the runway naked because she won't have any money left.
Tim is disturbed by prim fussiness in Miranda's design and advises her she needs pizzazz, sex appeal, something. What she has on the mannequin is too literally 80s secretary.
Kate is inspired by a hunting party/equestrian aesthetic and is using black leather to trim pants. Tim is concerned about her making the model look squat and suggests using a tuxedo stripe to keep the lines as long and lean as possible.
Sandro is struggling. Before he unloads on Tim, though, he asks if he can call him "Top" Gunn. After getting his one charming moment out of the way, Tim begins a downward spiral that will end in the biggest crash and burn in Project Runway history. Sandro is confused because the judges end up liking his designs but say he needs to edit. Asking Sandro to edit is apparently akin to asking him not to breathe. He can't seem to find a way to present a cleaner, more tasteful design that still expresses his ideas. Top Gunn advises Sandro to be himself, in design and in life. Generally good advice but after tonight's episode, maybe Sandro should try being someone else for a little while?
Helen thought she was doing menswear but Tim doesn't see it. So, Helen starts to doubt herself and breaks down.
Let's hit the runway!
So, before we get to the top or the bottom, let's deal with this.
Sandro Masmanidi: I can see how it is tough for a creative person to operate without feedback, especially in a competition. Even if I find Sandro's attitude and behavior repulsive, I can completely understand his frustration with landing in the middle twice in a row. You enter a competition to win, and hopefully also to learn and to grow, and of course in this case to gain exposure as well…and none of those things are going to happen if you keep landing in the middle with no clue as to why. He made a tactical error asking for feedback on the runway–Tim's critique would be a better time to try to gain insight into the judging, especially now that Tim sits in on the judging.
He has been in the bottom and in the top once each, though, so it isn't like he's had no feedback from the judges.
Sandro obviously is not ready to listen, however, since he fought with the other designers (including the normally quiet Ken), acted aggressively towards the crew, and then ran off and removed himself from the competition.
The irony is that I think he was started to process the critiques he had already received. This gown, while derivative, at least tones down some of Sandro's tackier impulses. Yes, there is a bustle and train attached to a skin-tight short dress but considering there are no lace, peek-a-boo stripper panels, I call it an improvement. As usual, his construction is impeccable. The bow ties just look tacked on. if he had found a way to use their shape in a more clever way, this could have been a contender. Zac rightfully smacks Sandro down for his lack of clear vision and calls it a "walk of shame" gown. Considering some of Sandro's remarks from the previous challenge, I see a little misogyny in this disheveled look–but maybe I am reading too much into it.
Helen Castillo: Helen is safe thanks to her previous win. However, Heidi singles her out and scolds her for this mess of a dress. Most hurtfully, Nina wonders if Kate carried Helen during the last challenge. You think? Despite this being bland and a bit messy, it is not tragic. I actually thought the lines looked good on the mannequin (though the colors are awful) and she got very thrown by Tim's critique. So, to make it look more like menswear, she threw together a bow tie harness/suspender trim, which obliterated her lines.
Alexander Pope: Oh, gosh, no. Honey, your drag is showing. This clown bow tie rainbow ruff is too costumey. Even worse, he thought it worked. Nice pants, though.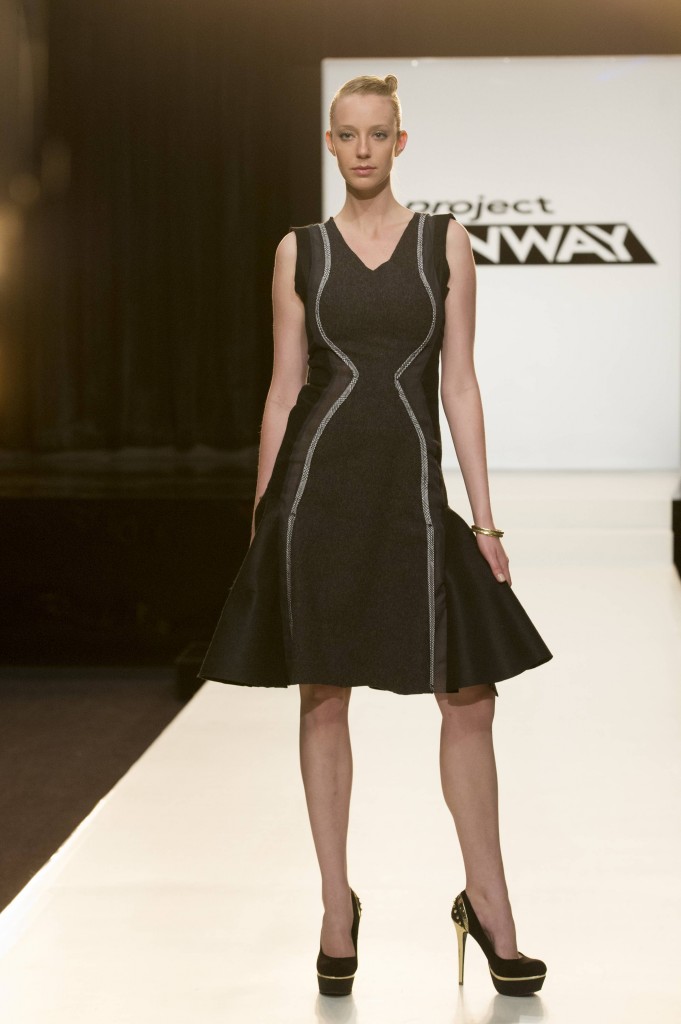 Justin LeBlanc: It is just okay. The dress is far too subtle and he recognizes this. While the trim provides a nice shape, I feel like the bust sits a little low and the outlines lock those proportions in. You'd have to have this dress custom designed to hit just the right spot…and it doesn't.
Karen Batts: 1980s secretary and the red shoes and lipstick don't help. And what is going on with those pants?
Ken Laurence: Is that a butchers bib? And how does this relate to the bow ties? I think he has some decent styling instincts that save this from being in the bottom but he is going to have to step this up a notch.
Alexandria von Bromssen: This has a sort of easy sexiness but isn't knocking me over and doesn't really relate to the challenge. I think she's a contender but this was not a winning entry.
Tie a Bow on It: The Top
Bradon McDonald: Bradon should go buy his model a gift. That girl is built for modeling. I'm not even sure her proportions are humanly possible. And she really works a look. This is super cool but when Heidi says she would wear it *if* she had the model's body, we are talking about a very limited clientele. Bradon shares that he used a faggoting stitch and gives the judges a little laugh. Nina likes the mix of fabrics and Zac calls it modern yet antique. I love the mix, too. I would have loved him to have designed something mortal women could wear…or even most models. No doubt, though, this garment on this model made quite the impression.
Dom Streater: Dom is quietly establishing herself as a front runner. The construction on this dress is excellent (and a designer actually correctly interpreted Tim's advice for once) and she manages to draw on some 80s motifs without being so literal. I didn't love it as much as the judges and I think she went overboard on the bow ties. However, I do appreciate the workmanship on the dress and the instinct. Dom says she liked the bold stripes because they called to mind the equal sign for marriage equality. Nina thinks it is adorable and represents happiness and celebration. Jesse Tyler Ferguson loves that the hair looks like a bow tie.
Kate Pankoke: I also feel like the judges over-praised this. It is a good concept and the pants are indeed, as Nina put it in the street argot, "sick." Boy, that was a fun moment. Heidi thinks it is sexy and modern. I think the proportions are off on the top. It looks saggy and droopy to me. And Kate's little giggly "sometimes I can be a tough princess" was awkward.
Well, Bradon is the winner and uses the moment to propose to his partner. Not to be a kill joy but how does that work? My first thought was will he wait until the show airs? Or call Josh later that night? (We later find out that he was planning to wait.) Either way, isn't it odd to propose without the potential groom there? And how weird that Heidi Klum, Nina Garcia, Zac Posen, and Jesse Tyler Ferguson know before your future fiance?
In a cute postscript, Bradon gets to teleconference with Josh. Josh tells Bradon about the Supreme Court ruling on Prop 8 and then proposes to Bradon. "I proposed to you!" "Well, I proposed to you!" That's cute enough that my earlier cynicism melts and my heart grows ten sizes.
Enough treacle…onto the losers.
Tie it Up and Take Out the Trash: The Bottom
Sue Waller: Enough of No-Sew Sue. Sue thinks her design is avant garde. I think it is student work and messy. She claims she was going for an exoskeleton. Heidi thinks it looks like a flea market craft spiderweb. Heidi is also shocked it was Sue's design and I wonder why she hasn't noticed that everything Sue sends down the runway looks like it got caught in the sewing machine…because it did. Zac calls it "Octopussy," Nina sees "Alien," and Jesse sees kelp. During the closer view, Zac grabs the model by the bow tie tail and twirls her around.
Jeremy Brandick: I was shocked this was on the bottom. I was worried about Jeremy's grandmotherly inspiration but I thought he mostly pulled it off. I didn't love the clashing orange and red or the feet-swallowing pants. I did like the 1940s vibe without it being a literal costume and I thought the upper part of the pants were too long. In my notes, I saw a toreador, menswear, Judy Garland hybrid. The judges disagreed. Heidi doesn't think it looks modern. Zac says it is beautifully made but fixates on the belly button "tummy eye." Jesse says she looks like a gorgeous octogenarian accepting her lifetime achievement award. I really think they were exaggerating the aging effects.
Miranda Kay Levy: Again with the pencil skirt! Miranda says she was going for structural and beautiful. Heidi says it is 80s but not a cool 80s moment and questions crop top. Zac agrees, Miranda agrees, my cat agrees. Once again, a designer is dinged for misinterpreting Tim's advice.
Honestly, though, I knew this was all a farce when Tim showed up to say Sandro had disappeared and they were still trying to reach him. I know that the judges would use this as an excuse not to eliminate anyone. I was still hoping they would do a double elimination of Sandro and Sue and bring back Kahindo…though I knew most likely a double elimination would mean more Timothy and I am not sure the sustainable snowflake could have withstood another critique.
As I guessed, Heidi says Sandro eliminated himself (COP OUT!). For some reason, this turns Tim into Yoda, who sagely opines: "Sad, it may be. Necessary, it is."
Tune into Project Runway Season 12 on Lifetime Thursdays at 9/8 central.