Over the summer, I was able to review the Strider ST-4 no-pedal balance bike with my two boys. Strider also makes the SUPER 16 SS-1, a unique balance bike in the market because it is a no pedal balance bike that is just the right for children ages 6-10.
The concept behind balance bikes is that pedaling comes easy once a child learns how to balance. If you start with "training wheels," however, the child becomes dependent on them and takes longer to learn how to balance. Anecdotally, my friends either reported quick learning with a balance bike or did not use one and had children who struggled getting rid of training wheels. I have been amazed at how quickly my five year old son learned to balance and I wish we had started all the kids on a balance bike. My third and fourth kids will definitely use balance bikes from the start.
At the time, my almost 7 year old daughter still had training wheels. She loved riding a bike but did not want to ride at the park with training wheels where she might see her friends. She used the ST-4 we had received for her brothers and felt confident and comfortable on it, although it was a little small for her.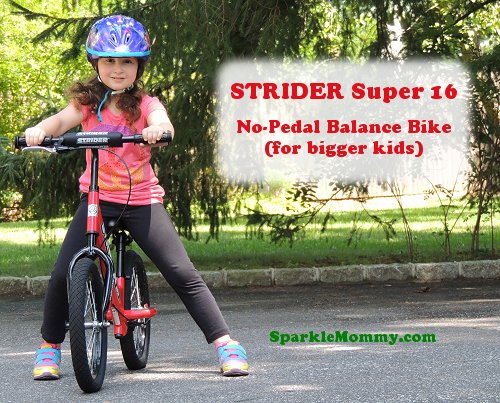 I mentioned her frustrations to the people at Strider and they offered to send me a STRIDER SUPER 16 at wholesale cost for review.
The SUPER 16 SS-1 has an adjustable padded seat ranges in height from 17.25″ to 25″ (compare with the ST-4 that has a range of 11-16″, with an optional XL seat post that extends from 14-19″).
Beyond the increased seat height, the Super 16 has a number of features that make it more like a big kid bike, including an ergonomic hand lever, caliper brake, and 16″ pneumatic "dirt jump" tires.
The SUPER 16 was just the thing my daughter needed to ditch her training wheels. Her feet touch the ground and she immediately felt comfortable pushing herself with her feet and then gliding. Since the bike is lightweight, it was easier for her to turn around and position.
After just a couple of times on the bike, she was standing on the foot rests and "posting." No more anxiety; my daughter was actually doing tricks on her Strider SUPER 16!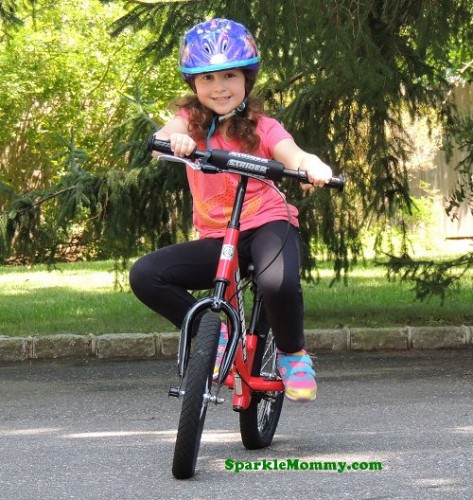 A few more times over the next couple of weeks and my daughter was on a regular pedal bike without training wheels. Starting her on the smaller STRIDER when she was in preschool would have saved a lot of time and worries for her.
The STRIDER 16 is good for children who did not get a balance bike earlier and need a little help getting rid of the training wheels. It is also excellent for older kids who like to perform tricks and stunts.
Most importantly, the STRIDER 16 is the perfect bike for children with special needs and has a high Able Play rating. The therapeutic benefits of learning to balance are essential for a number of children with disabilities. Children with a shorter range of motion in their legs will be able to propel themselves on the bike. And the social and emotional benefits of being able to ride a bike, just like other kids their age, are huge.
Visit StriderBikes.com for more information and to buy directly. Strider bikes are also available from your local retailer and on Amazon.com.
DISCLOSURE: My family received an Strider Super 16 Bike from Strider at wholesale cost to facilitate our test. As always, all words opinions are my own.