I haven't seen Frozen, yet, because I let my parents have the privilege of taking the kids…but I hear it is stupendous and can't wait to watch on DVD.
In what may be one of the most clever tie-ins to a movie (though I am waiting to hear that Disney World's Blizzard Beach is getting a Frozen make-over), Disney announced a Frozen-inspired suite and activity cave at Quebec City's Ice Hotel.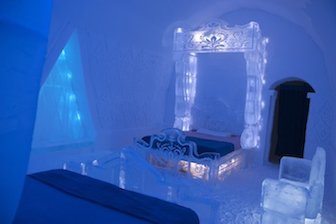 Hit it, press release:
Today, Walt Disney Studios has unveiled the first images from the Frozen-inspired suite at Quebec City's famed Hôtel de Glace, in celebration of Disney's "FROZEN" Blu-ray & Digital HD release.

Created entirely out of sculpted ice and snow and supervised by the film's art director Michael Giaimo, the "Frozen Suite" is modeled after Anna & Elsa's bedrooms. The collaboration will also include a "Frozen Activity Cave" bringing the wonder of Disney's wintry tale to life like never before. The suite will be unveiled this weekend and remain open through March 23.
I love traveling and in the BC (before children) era I used to be pretty adventurous…but an ice hotel just is not on my bucket list. You sleep wrapped up in a super-warm thermal cocoon-like sleeping bag. Extreme temperatures just isn't my thing. I would definitely be interested in visiting for a few hours, though, just to see it. How about you?