The drill gremlins (the slightly less nasty cousins of the deployment gremlins) were out in full force this past weekend.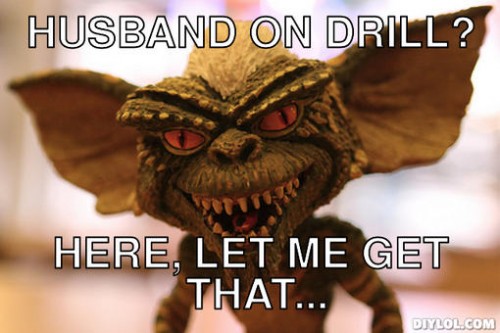 First, I got stuck on the icy roadways. Only a fortuitously placed tree stopped my car from falling into a ditch. I spent two hours trying to dig the car out and broke a shovel in the process. I carefully dug out each wheel, rocked the car back and forth, and made some progress only to get stuck again in a new spot. Finally, I straightened out, backed down, got a "running start" and freed myself.
That night, I had to find the energy to take my daughter to the sweetheart dance. A lot of fun but I was wiped out.
The next morning, we rushed out to take my son to soccer practice (which he normally does with my husband). When we returned, we had no heat and I had to do battle with our oil company. They were supposed to deliver the day before and didn't. The kids were freezing but we had to stay home so the mechanic could restart the heater.
Do you find that when your spouse is away lots of little things break and go wrong? I'm not sure if more things go on the fritz or if it just seems that way because he isn't here to help fix the problems!