You might think this is satire from a "fake news" site but it isn't–a Long Island elementary school in the Elwood school district has canceled a kindergarten play because they are "responsible for preparing children for college and career with valuable lifelong skills…"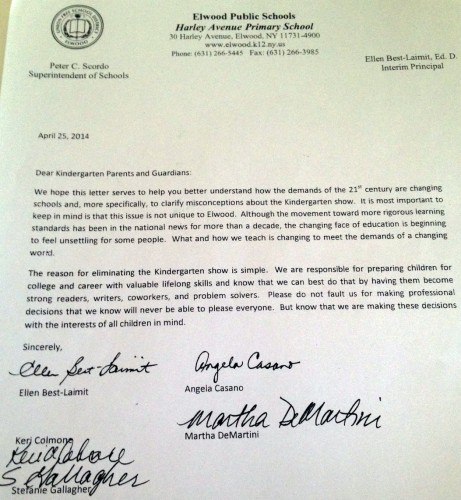 Another letter references the unusually high number of missed school days due to snow. Elwood, like the district in which I live, has half day kindergarten. So, morning kindergarten was likely canceled when there were delays. Although missed days in excess of allotted snow days are made up–kindergarten days missed due to delays are not.
However, the reference to "college and career" readiness implies a connection with the demands of the Common Core. Do the administrators at Elwood genuinely believe that a few days spent preparing and performing a school play in kindergarten will affect little Ava's ability to succeed in college and find a high-paying job? Or are they scared that Brayden will bomb the state tests in third grade because his demanding rehearsal schedule distracted him from test prep? Or are they using these children as pawns to protest the requirements tied to implementation of the Common Core in New York?
Does anyone really believe that a five year old's time is better spent bubbling in more scantrons?
Whatever is going on in Elwood, this is a sad day in early childhood education.