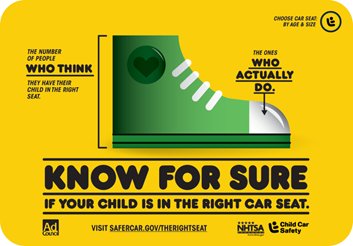 We all want to keep our kids safe.
I spend an irrational amount of time researching safe sunscreens, choosing stainless steel or glass containers for their food, and selecting organic foods whenever possible.
The most important and completely rational safety measure I take for my kids by far, however, is buying, installing, and correctly using the right child safety car seat.
Did you know that motor vehicle crashes are a leading cause of death for children age 1 to 13 in the USA? And that consistent use of the correct child safety seat in the car could cut fatalities by about half?
Are you sure that your child is in the correct seat? Sure enough to be his life on it?
A few years back, when I had just two of my four children, we were in a horrible auto accident. I thank God that my children were in the best seats I could find, that the seats were installed properly, that my 17 month old was still rear facing, and that we all walked away from that accident relatively unharmed.
If you are a parent or a caregiver, please visit SaferCar.gov/TheRightSeat to determine if your child is in the right seat for his or her age and size and to locate a car seat check event in your area. Also, please register your child's car seat with the manufacturer so as to be informed in the event of a recall.
I am a complete fanatic when it comes to car seat safety–I held up our family's park visit in Disney World once when a taxi showed up without the correct, pre-ordered seats. As much as I wanted to get out and have fun, I was not taking that risk, not even once!
According to the government, "Safety seats, if used correctly, dramatically reduce the risk of fatality or injury to children. However, research shows that three out of every four car seats are not used correctly, meaning the child is not in the correct car seat for their age, height and weight, or the car seat is not installed correctly. In 2012, over one third (37%) of children killed in car crashes were not in car seats or wearing seat belts."
Car Seat Safety Tips:
Find a car seat that fits your child. As children grow, how they sit in your car will change. Make sure the car seat you purchase is designed to fit your child's current size and age.
Not all car seats fit in all vehicles so test the car seat you plan to buy to make sure it fits well in your vehicle.
Before putting your child in a car seat, read the manufacturer's instructions so you know how your car seat works.
All-in-One car seats offer you the advantage of using the same seat for the following positions: rear-facing, forward-facing with harness, then booster. These seats typically have higher height and weight limits for the rear-facing position, allowing you to keep your child rear-facing for a longer period of time.
Remember, the best car seat is the one that fits your child properly, is easy to use, and fits in your vehicle correctly. The information here can help you choose the right seat for your child. Keep in mind that:
o Your child under age 1 should always ride in a rear-facing car seat.
o Children ages 1-3 should be kept rear-facing as long as possible.
o Keep your child in the back seat at least through age 12.
o Be certain you've installed your car seat correctly by having it checked at an inspection station or by a certified child passenger safety technician. Bring the Car Seat Instructions AND the Vehicle Owner's Manual with you to a seat check appointment!
For more tips and to find a car seat check in your area, visit: SaferCar.gov/TheRightSeat.