I have been seriously neglecting my recaps this season–Fridays are just very busy days! I couldn't resist this one, though. The designers are challenged to make outfits inspired by some of American Girl's classic historical dolls that are part of the BeForever line.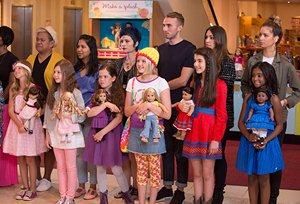 Like many 8 year old girls, my daughter adores American Girl dolls and their stories.
She was considering an sewing camp for making outfits for her American Girl Doll but it conflicted with robotics. I think with a week of sewing lessons, she might have outdone the contestants.
The contestants were assigned dolls and asked to design an updated girls' outfit, inspired by the doll, her story, her fashions, and her accessories. The designers also had access to fabric from the doll's designs in addition to their regular trip to Mood.