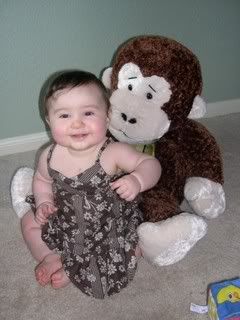 Today I am Nine Months' Old!!!
I am just starting to really crawl. Crawling is for chumps, anyway. Mark my words…three, four, five months from now, all the cool babies in my age group will be walking anyway. Walking is the wave of the future.
I'm making serious efforts in that direction, pulling up, standing while balancing on furniture, my parents, the cats…well, I would if they would stay still.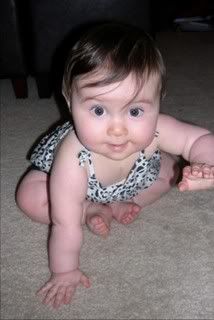 If I need to get somewhere in the immediate future, there is always momorail. Although mommy has been grumbling something about me reaching the momorail weight limit soon–I'm about 21 pounds.
I have SIX TEETH! I eat whatever they give me–tofu, chicken, turkey, avocado, squash, carrots, sweet potato, green beans, blueberries, apples, bananas, oatmeal, pears…you name it, I'll eat it!
Mommy says I have a great sense of humor. I make all sorts of jokes, like putting the paci in mommy's mouth and then laughing. I love to wave at people and I'm learning sign language. I like to play peekaboo and turn off the light switches.
I say "Dada," mostly to Daddy, but sometimes also to mom, the cats, the couch…I also say "I Love You." Mom still can't get over it and doesn't think you'll believe it…but I hear the words so often, it makes sense! I bet my next word is "cute."