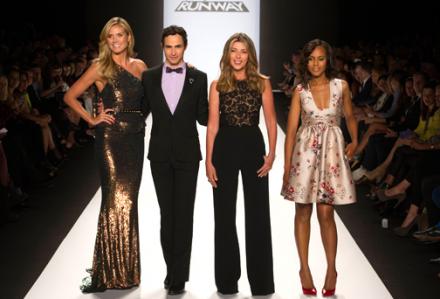 That was probably one of the least controversial finales IN THE HISTORY OF PROJECT RUNWAY. While I have seen some disagreement online about who should have one, most of the Internets seem to agree that Alexandria, Dom, Justin, and Bradon all had their strong points and they all seem to be legitimately decent human beings.
I think the disagreement stems, in part, from the shifting ideas about the purpose of Project Runway's final fashion show and prize. Is the idea to give a forum to innovative voices that might otherwise have trouble finding backing? provide a kickstart to designers without traditional credentials? find America's next big designer? give seed money to someone who is truly ready to start their own line? Depending on how you answer this question, you will choose a different winner. I don't think this has been consistent throughout the years–just compare Jay McCarroll, Christian Siriano, Leanne Marshall, Seth Aaron Henderson, and Dmitry Sholokokhov.
At the very least, this year was no Gretchen versus Mondo and there were no cheating accusations or other scandals.