Over the summer, I was able to review the Strider ST-4 no-pedal balance bike with my two boys. Strider also makes the SUPER 16 SS-1, a unique balance bike in the market because it is a no pedal balance bike that is just the right for children ages 6-10.
The concept behind balance bikes is that pedaling comes easy once a child learns how to balance. If you start with "training wheels," however, the child becomes dependent on them and takes longer to learn how to balance. Anecdotally, my friends either reported quick learning with a balance bike or did not use one and had children who struggled getting rid of training wheels. I have been amazed at how quickly my five year old son learned to balance and I wish we had started all the kids on a balance bike. My third and fourth kids will definitely use balance bikes from the start.
At the time, my almost 7 year old daughter still had training wheels. She loved riding a bike but did not want to ride at the park with training wheels where she might see her friends. She used the ST-4 we had received for her brothers and felt confident and comfortable on it, although it was a little small for her.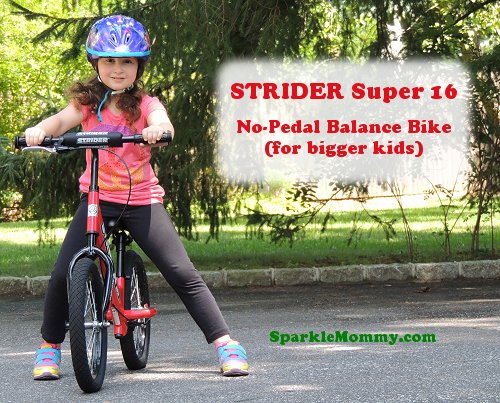 I mentioned her frustrations to the people at Strider and they offered to send me a STRIDER SUPER 16 at wholesale cost for review.