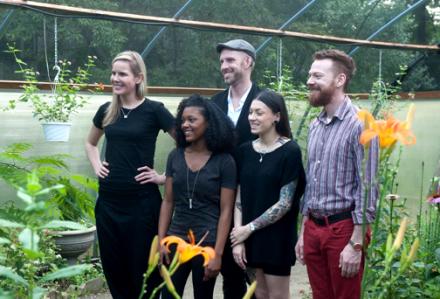 We are down to five and it is the "final" runway before Fashion Week. Heidi says there is a "sausage…or is it a carrot" dangling in front of the designers' noses.
Is Heidi's accent thicker all of a sudden?
The designers are going on a field trip for the "inspiration / L'Oreal make-up" challenge and…whoah! Sweetbriar! I cannot believe Project Runway came to Sweetbriar! My family goes to this wildlife rehabilitation center ALL THE TIME. It is a fun place but you have to understand there is a vivarium exhibit at the Museum of Natural History in Manhattan and a MAJOR state of the art vivarium at the aquarium in Riverhead so I was sort of shocked they came to our little podunk nature center. If I had known, I totally would have been there to stalk Tim heckle the designers see if I could catch a glimpse.
Sweetbriar is home to all manner of creatures who are either receiving treatment and will be released or are unable to be released and now call Sweetbriar their home…creatures like one-eyed owls, eagles with only one wing, and all manner of exotic pets whose needs their misguided owners did not anticipate. Well, I hope Sweetbriar got a substantial donation–wonder if the place is all spruced up, now?
The designers are supposed to be drawing inspiration from the butterflies and L'Oreal's mascara that gives your eyes lashes like the wings of a butterfly or some such marketing nonsense to make an avant garde look. Yes, that fun challenge when we realize that none of these designers really has any idea what might constitute avant garde any more and neither do any of the judges.