It is almost as if the producers heard the twitterverse and blogosphere say, "How many elements can you possibly fit in one challenge???" during the Yoplait/crowdsourcing/Coney Island/carnival prize challenge and decided to answer, "Ha! You ain't seen nothing yet!"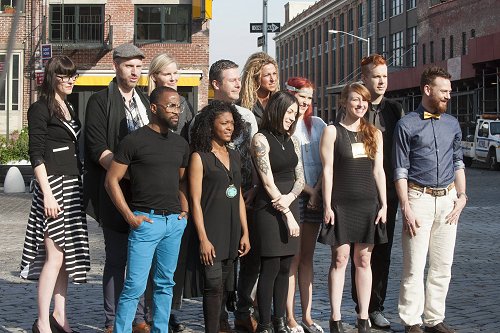 That's right designers and viewers in the home audience! It is the Lexus/gourmet foods/vintage wallpaper/home and party goods/team challenge!
Let's break this down: the designers are split into teams of three to drive a Lexus, which may or may not serve as an inspiration point…whatever! you choose! who cares as long as the check clears!…around town to at least two of three different locations to source unconventional materials. Each designer is responsible for one look but the looks must be a cohesive part of a collection. The suggested budget is $1500, which one designer will spend but the others must reimburse…and why did we need to know that let's get shopping and sewing, people!
Got all that?