This season has a new twist on the "real woman" challenge: the clients are "über fans." This is always an interesting challenge that plays on a number of tensions. What is a "real" woman, anyway? Aren't we all? And if there are a range of sizes in the clients, is everyone on an even ground? How will the designers balance the need to produce something more fashion-forward while still producing a garment for a client who generally shops in mass-market stores?
Having super fans was a nice twist because they were all so happy to be there and they understood the game–they knew that their designers needed to win, or at least survive. Also, they knew that a dress produced as part of a competition in less than two days was unlikely to be finished, wearable, and 100% their preference…they were there more for the experience than for the free dress.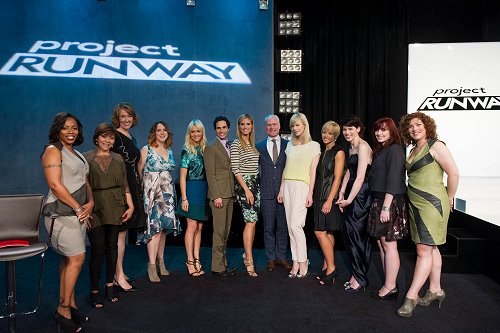 When the fan-clients arrive, Tim gives them the tour. And that, right there, would have been worth the trip for me! Tim hides the ladies in the sewing room for the big reveal.
You can tell the designers are nervous but, thankfully, none of them has the poor taste to make the stupid remarks others have in seasons past.